Return to Blog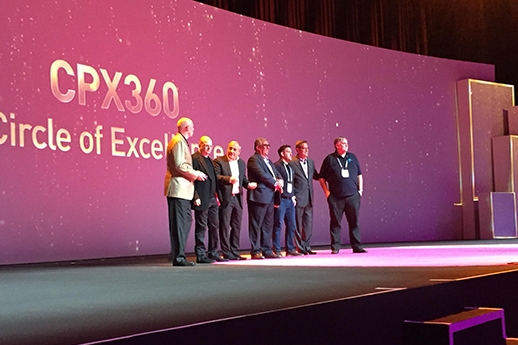 Cyber security specialist Pentesec has been awarded European Growth Partner of the Year 2017 by Check Point Software Technology. The prestigious award was presented during the 2018 CPX360 cyber security summit in Barcelona. It recognises Pentesec's year over year booking growth of 59 percent, which the company has achieved through implementation of Check Point technology, maintained levels of expertise and first-class customer service in keeping with their Check Point 4-Star Elite status.
Pentesec Awarded Growth Partner of the Year 2018
Peterborough based Pentesec was established in 2014 and already holds the highest number of Check Point accreditations of any business in the world. The achievement of 4-Star Elite status in 2017 put Pentesec amongst only five UK business to receive the accolade. This European Growth Partner of the Year award further acknowledges their commitment to cyber security excellence. The award required Pentesec to demonstrate that growth has been achieved through partnership with Check Point's technology and through a focus on knowledge, collaboration and education. The company has previously been described by Check Point as 'trailblazers of [our] emerging technologies'. Pentesec's passionate and dedicated approach is evidenced by the fact that the company was able to achieve Check Point Elite status faster than any other partner in history. They were also the first accredited vSEC (now CloudGuard) partner worldwide, meaning that Pentesec customers can have complete confidence in the security of their assets in the cloud.
Pentesec's managing director Ian Turnbull and technical director Stephen Bourike accepted the award at a ceremony which took place at Barcelona's International Convention Centre on February 23rd to 25th. The three-day event drew cyber security experts from across Europe and comprised 'cyber-talk' keynote sessions from leading industry experts and training opportunities covering up-to-the-minute intelligence on cyber-security threats.
Ian Turnbull, managing director at Pentesec, said: "It's been wonderful to receive such recognition at an event of this calibre. Our partnership with Check Point is an essential element of our business and has contributed greatly to our growth over the past three years, so we feel extremely proud to receive this award in recognition of our ongoing efforts and our commitment to cyber-security excellence. Pentesec has doubled its customer numbers in the last year alone and we want to continue this trend. We will always endeavour to be at the cutting-edge of emerging technology, finding new solutions to protect our customers from the ever-increasing threat of cyber-attack."
Michael Wakefield, Head of Channel Sales UK & Ireland at Check Point Software Technologies, said: "It was great to see Pentesec's commitment and passion towards Check Point rewarded at CPX360 in Barcelona. The European Partner of the year award was fully deserved and testament to their hard work and reflective of the service they are delivering to our customers. "
Pentesec was founded in 2014 by five enthusiasts of pioneering technology with extensive knowledge and experience across security and infrastructure. The team continually monitors new and emerging technology to identify potential threats before they can take effect. Pentesec can manage all aspects of a security strategy, from an initial health check through to security and support. For further information, please visit www.pentesec.com.