Pentesec Managed SIEM
Time To Know You're Secure
The Pentesec Managed SIEM Service, powered by Rapid7, utilises elements of Security Information and Event Management (SIEM) and Endpoint Detection and Visibility to offer deeper insight into the threats you face, alert you to risks in your environment and provide immediate value to your organisation.
Built by experts, Managed SIEM provides immediate visibility of your users, devices and attackers.
Our team can monitor your network activity and alert you immediately whenever there is a risk that needs your attention – leaving you to focus on everything else that matters to your business.
Security Outcomes and Benefits
The Managed SIEM service is designed to give you the security outcomes you want for your organisation, including
Centralised Logs
We centralise all your critical security data so our teams can analyse, correlate and respond or escalate based on our findings.
Enhanced Visibility
We combine intelligent automation and cutting-edge technology with proactive analysis from our world-class SOC analysts to offer better visibility of your digital environment.
Shared Intelligence
Our solution leverages threat intelligence from a variety of feeds to make sure we know what's coming before it hits your networks.
Industry leading time-to-value
Our solution is deployed within hours and immediately starts analysing your environment for suspicious behaviour.
Reduced Risks
Our services allow you to get the most out of your existing investments by leveraging the data they produce to enhance your security posture.
Increased Security
Our hypervigilant approach can pre-empt disruptive events before they occur, spot potential vulnerabilities and provide a fast, dynamic analysis of threats.
Pentesec's Managed SIEM service is built from market-leading solutions and delivered by our custom-built Security Operations Centre (SOC).
Key Capabilities
Security Essentials provides immediate access to:

User behaviour analytics
Identify suspicious behaviour within your digital environment and prevent damage before it occurs.
Attacker behaviour analytics
See where attackers can hurt you most and quickly detect security events.
File integrity monitoring
Stop unauthorised or malicious changes to critical files.
Deception technology
Trick your attackers with fake network resources that, if touched, alarm you to their presence.
Endpoint detection and visibility
Be certain your devices aren't at risk from malicious activity.
Why Pentesec?
Our services will give you better visibility of your entire estate, using automation to collect and analyse data before escalating conclusions to our expert human team where required. It means your internal resource can be used where it should be.
While some solutions become less effective over time, our services are designed to evolve and adapt; to meet new challenges head-on and make sure you're always one step ahead of threats. When you work with us you get support from a team of world-class analysts – who will make it their mission to protect your data and your business.
We work with businesses of all sizes, across all sectors and believe in one thing: Putting the customer and technology first.
Resources
Download our guide to Pentesec's Managed SIEM.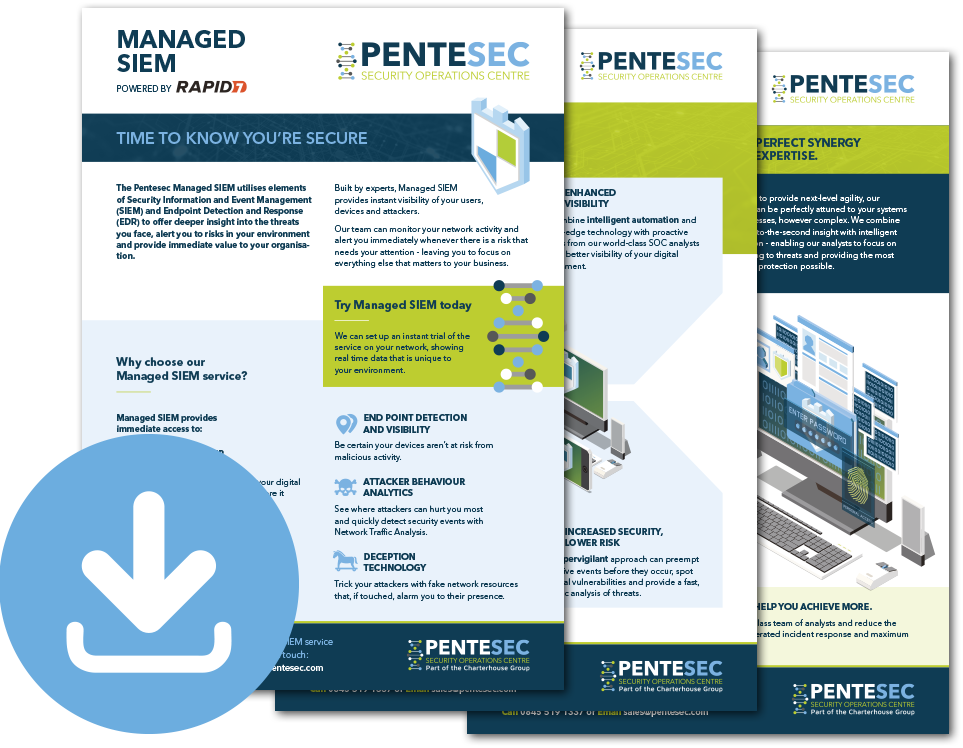 Download The Guide
Contact Us
Speak to one of the team today to discuss your requirements