Return to Blog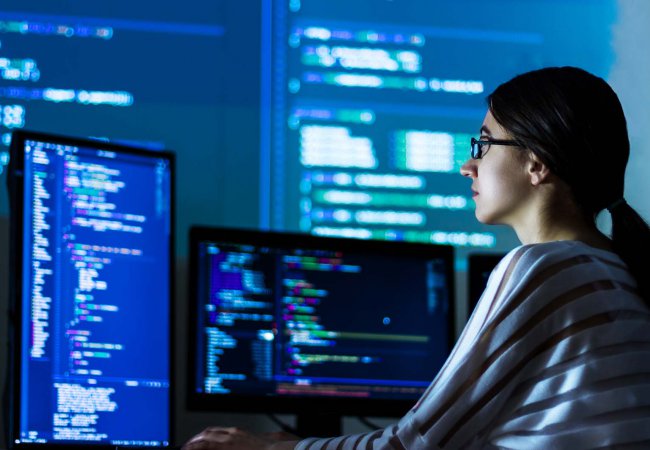 Cyber security is an ever evolving and expanding challenge and a lot of businesses struggle to keep up with the changing threat landscape.
The costs of implementing the necessary technologies and personnel to proactively monitor and investigate threats in-house could very quickly become very expensive – not to mention ensuring regulatory compliance and minimising alert fatigue among the team.
Investing in an outsourced SOC can provide you with extensive threat detection and response capabilities, managed by fully qualified analysts at a fraction of the cost, providing a whole host of benefits.
If you run an online service for the public, host sensitive data that's accessed remotely, operate multiple office locations and/or require a single point of visibility for threats, then you would benefit from the services provided by SOC.
Ultimately, what an outsourced model offers you is greater protection, greater agility and a vastly reduced risk profile, backed by SLAs and teams of experienced analysts and threat hunters.
So, what is an Outsourced SOC?
Let's start off by talking about what a SOC is first.
SOC stands for Security Operations Centre – a centralised function that employs people, processes, automation and technology to continuously monitor and improve security posture by detecting, preventing, analysing and responding to threats or cyber security incidents.
SOCs ingest security and event data from a variety of sources and teams of analysts correlate the information for signs of malicious activity. In certain instances, providers are retrofitting a layer of automation to auto-triage alerts and logs according to pre-defined policies, which helps to prevent analysts drowning in floods of false positives.
SOC services can include Managed Detection and Response (MDR) and Managed SIEM or SOAR, as well as Root Cause Analysis, Patching and Remediation, Initial Triage and Analysis and more.
So, what are the four reasons to invest in an outsourced SOC?
Reason One: Maximum protection from evolving threats
Businesses need ongoing, continuous protection from harmful content and malicious activity. Technology alone is not enough to protect your business, so when security challenges move too quickly for your existing solutions, it could be time to consider outsourcing your security. Outsourcing your security allows you to take advantage of all the technologies and tools at the disposal of your chosen provider, without the large CapEx spends related to buying and implementing the technologies in house or the training costs of getting your staff up to speed.
There's no "one-size-fits-all" solution in cyber security – no boilerplate or cookie-cutter approach. The criminals' tactics are continually evolving; your security solutions need to do the same. You need a proactive, pragmatic approach to cyber security that reduces risks, cuts costs, increases compliance and, of course, enhances your security posture.
Reason Two: Access to world-class talent
It's widely acknowledged that there is a cyber-skills shortage and, certainly within the UK , it's not getting any better. Even if you have the budget available to hire the staff you need to improve your security, finding qualified and experienced staff is a real challenge.
Outsourcing your security gives you access to security specialists that are perfectly equipped with the knowledge and tools to help you detect, prevent, analyse and respond to threats within your environment.
You leverage the SOC team and their knowledge to enhance your security in a more cost-effective way than having to source and employ the staff yourself, on top of purchasing and implementing all the technology required too.
Reason Three: Reduction of business risks
In the last 12 months, the risks to your business from every form of cyber-attack have increased exponentially and cyber criminals will always find new, more exotic ways to infiltrate networks. You need a robust security solution that is going to reduce levels of operational, financial and reputational risk that your business faces if you fall victim to an attack.
An Outsourced SOC proactively identifies threats and mitigates them, providing a greater level of protection from a wider variety of attacks. By investing in outsourced security, you can rapidly increase your security maturity with a relatively small investment.
Reason Four: Trusted Cyber Security Partner
If you decide to outsource your cyber security, you need to make sure you partner with a provider that is easy to communicate with, prioritises your needs and offers a robust, long-term solution that's easy to deploy.
When it comes to your business and your data, you need the reassurance that you're working with a trusted, experienced cyber security partner that can provide the services and support that you need.
What Pentesec Can Do For You
Pentesec's Security Operations Centre provides complete cyber protection through a perfect synergy of intelligent automation and human expertise.
Our outcome-led services combine multiple industry-leading technologies with human knowledge to keep you ahead of the game, offering maximum protection from evolving threats (including ransomware), access to world-class analysts and reduced risk to your business – all provided by a trusted, experienced cyber security provider that consistently exceeds expectations.
We've worked hard to understand what businesses really want from an SOC and to build smart, comprehensive services that's like no other. You can rest assured that we'll take a consistently proactive approach to helping you achieve your desired outcomes; including faster issue resolution, reduced risk and increased regulatory compliance.
While some solutions become less effective over time, our services are born in automation and are designed to evolve and adapt; to meet new challenges head-on and make sure you're always one step ahead of threats. When you work with us you get 24/7 support from a team of world-class analysts – who will make it their mission to protect your data and your business.
Contact us today and find out how we can help you improve your security posture, protect you from evolving threats and reduce the financial, operational and reputational risks you face.